Company 3 Takes Home Two Awards at The FilmLight Color Awards 2023!
November 13, 2023
Nov. 13, 2023
The FilmLight Color Awards, which honor exceptional color grading internationally, has awarded Company 3 across two categories — Feature Film and Commercial!
During the world-renowned EnergaCAMERIMAGE cinematography festival this past Sunday, Yvan Lucas was awarded in the feature film category for his work on Barbie, and Tim Masick in the commercials category for Zara Man 'SS23'.
Tim Masick attended the event to accept the honor and Yvan Lucas appeared virtually to do the same.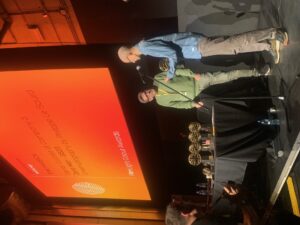 The Awards are organized by FilmLight (but are color corrector agnostic) in conjunction with EnergaCAMERIMAGE. They are supported by prominent international groups such as The American Society of Cinematographers (ASC), The French Society of Cinematographers (AFC), the Colorist Society International (CSI), the International Federation of Cinematographers (IMAGO), and the Polish Society of Cinematographers (PSC) among others.
View the complete list of winners here.
Winners
Barbie
Color | Yvan Lucas
Add'l Color | Nick Metcalf + Alan Gordon
Finishing Edit | Pat Kelleher
Los Angeles Dailies | Tom Klane
Editorial Services | Company 3
Company 3, Production | Michael Maida, Gregory Caligiuri
Director | Greta Gerwig
DP | Rodrigo Prieto
Editor | Nick Huoy
Production Design | Sarah Greenwood
Zara Man 'SS23'
Color | Tim Masick
Company 3, Producer | Ryan Moncrief
Director | Fabien Baron
DP | Phillipe Le Sourd
Editor | William Town, Modern Post
Prod Co. | PRODn, Seeker