U2 Unveil Music Video for "Atomic City" Featuring Color Grade and Finishing by Company 3
October 15, 2023
Oct. 15, 2023
To mark the launch of U2's epic and historic Las Vegas residency at the Venetian's Sphere, the band has released the music video for their new track "Atomic City." Directed and shot by Ben Kutchins, featuring color grade by Jill Bogdanowicz, and finishing by Jason Frank, the film follows the band as they perform for fans on the streets of Las Vegas before giving a glimpse of their staging at The Sphere.
Once Ben had shot the video, he contacted Jill to ask her to grade the music video. Jill recalls, "Ben contacted me asking if I could grade a last-minute music video he'd shot the previous weekend. He called me and mentioned that it was a rapid turnaround but wanted me to be a part of it. There wasn't a lot of preparation, but I was very keen to be a part of it."
As with all music videos, collaboration is essential; that was no different on this project. Jill notes, "Ben and I have known each other for a long time, which is great as he trusted me to bring a unique vision to the piece. He sent me interpretations of what he wanted to see, which included some stills that he liked, but fully encouraged me to do my own thing."
Jill adds, "I showed him my interpretation, and he loved it, and his producers and other people in the room agreed. When you already have that relationship, it helps you to understand what the director wants to see. So, it was just that simple."
Within the music video, you find U2 returning to Fremont Street decades after the band filmed some of their "I Still Haven't Found What I'm Looking" video along the same road in April 1987. Director Ben wanted to show the difference and progression between the band and Vegas by having the Fremont Street footage in an old 16 mm film style, then when you entered inside the Sphere for it to feel much more modern and vibrant.
Jill comments, "It shows progression for both the band and Vegas. The film's beginning, where the band performs on a big flatbed truck, is a throwback to the old Vegas and their previous music videos. In contrast, the Sphere represents the new Vegas and a new type of entertainment. I also feel it celebrates U2 as a band, celebrating their decades of music, dedicated fanbase, and how they continue to grow and create something new."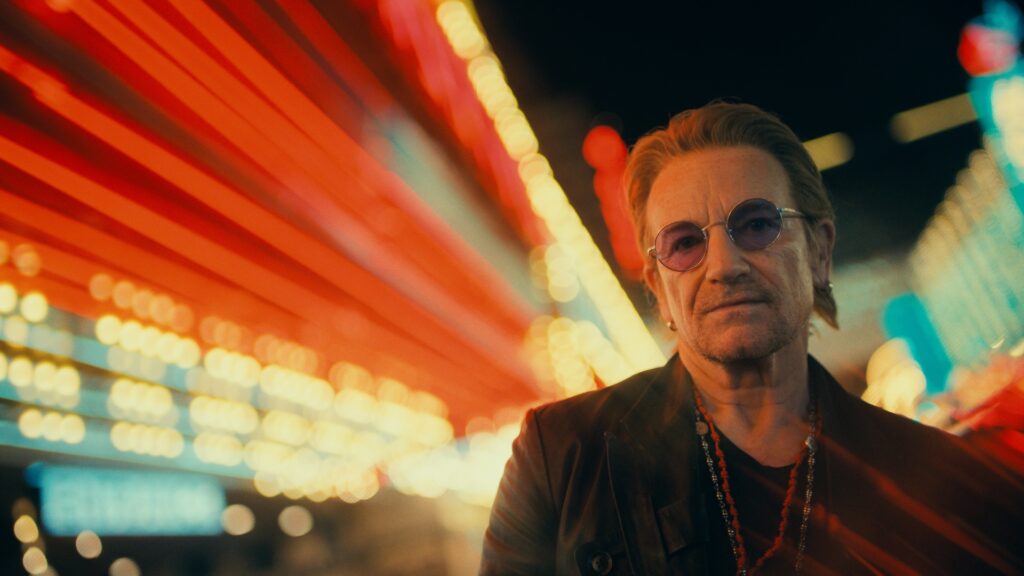 The music video has already surpassed 1 million YouTube views in a short time following its release. It is a vital part of their Las Vegas residency "U2:UV Achtung Baby", which looks like one of Las Vegas's best-selling shows.
Contact us about your upcoming music videos or commercials by visiting our contact page, or you can submit a query through our contact form here.
Color | Jill Bogdanowicz
Producer | Matt Moran
Director & Cinematographer | Ben Kutchins
Prod Co | Moment Factory Music + HKCORP
Edit | Saar Klein + Juliana Rodzinski